Cerakote: The Standard For Lionheart Industries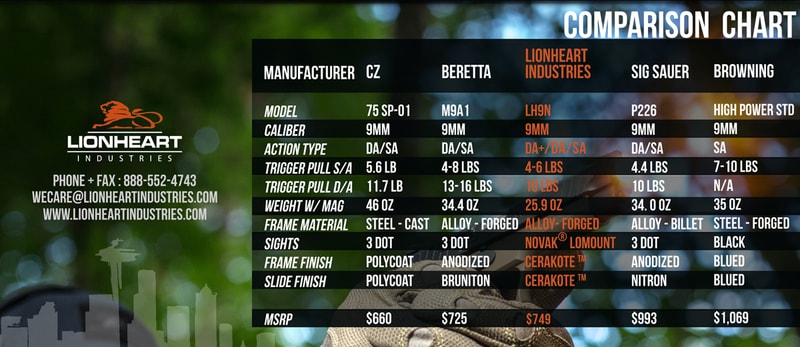 Lionheart Industries is proud to announce our partnership with Cerakote Firearm Coatings. Lionheart strives to provide customers unique and innovative products, a pursuit that is best exemplified by their proprietary Double Action Plus+ system. Their motto, "Exceptional Comes Standard" is a testament to their dedication to provide exceptional features that go beyond the current standards of the industry and applying Cerakote to every firearm offered is further proof of this commitment.
The K5, the predecessor to the LH9, has served the South Korean military well for the past 30 years. The K5 comes with a a black oxided slide and an anodized frame; Lionheart's push to modernize this proven design convinced them that the coating needed changing, and they chose what they found to be the best coating on the market today.
Lionheart took a basic Milspec firearm and pushed it beyond Milspec by adding a number of premium features. They conducted independent testing and Cerakote proved to be the toughest, most durable coating and they discovered that it even increased the reliability of their firearms. All their firearms come standard with Cerakote because providing exceptional performance and value is Lionheart Industries' standard.
For more information about Lionheart Industries' Cerakoted products please visit www.LionheartIndustries.com. For more information about Cerakote, please visit www.CerakoteGunCoating.com.