Cerakote Featured in 'Outdoor Life Magazine' June/July 2012 Issue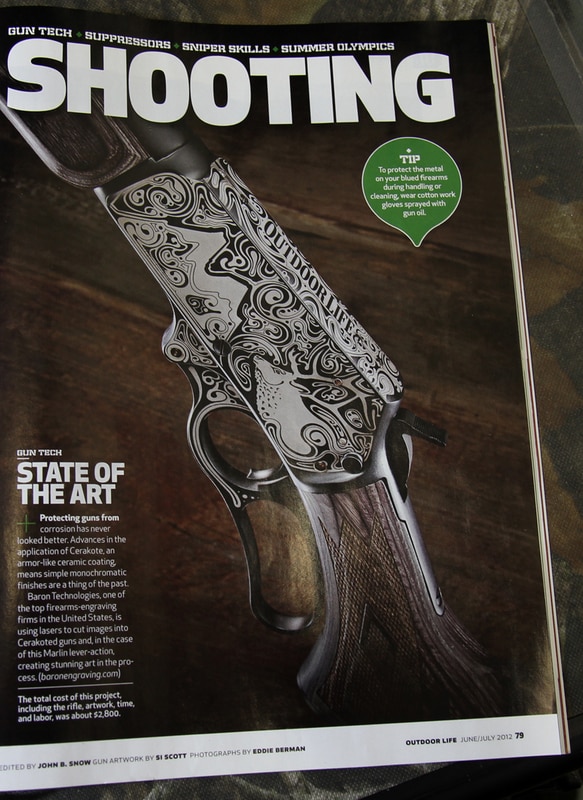 Cerakote Firearm Coatings is honored to be featured in the Shooting section of the June/July 2012 issue of 'Outdoor Life Magazine', the source for hunting and fishing adventure. Si Scott, the art director at Baron Technologies, one of the premier firearm-engraving companies in the United States, created an incredible Cerakote coated and laser engraved Marlin 308MXLR showcasing his unique hand-drawn style of illustrating. This project proves that Cerakote firearm coatings can not only successfully be used for protection against the elements, but as an art form as well.
The article goes on by stating, "Protecting guns from corrosion has never looked better. Advances in the application of Cerakote, an armor-like ceramic coating, means simple monochromatic finishes are a thing of the past… Cerakote will stand up to solvents and wear, and will ward off corrosion. The cost isn't prohibitive, and when it's applied by a skilled artisan, the result is one tough and beautiful firearm."
This combination of performance and customization is a glimpse of what's to come in the near future. Gun owners are demanding performance and customization at an affordable price. Baron's laser treatment over Cerakote satisfies this demand and will allow manufactures to create customized firearms at a very competitive cost.
For more information, pick up the latest issue of 'Outdoor Life', visit www.outdoorlife.com or head over to www.baronengraving.com.