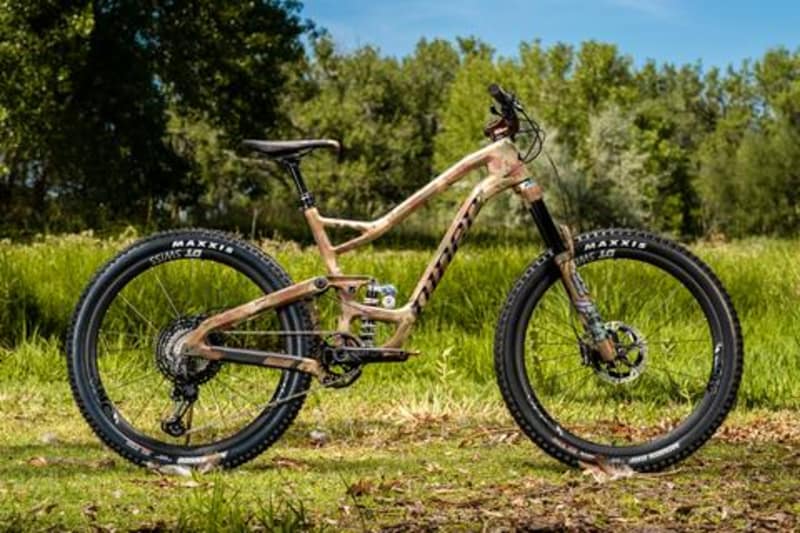 We at Niner love a custom paint job on our favorite bikes. For example, Niner has a long history of creating one-of-a-kind bike frames with an IMBA paint scheme and donating these bikes to support trail advocacy.
But this intricately camouflage painted bike isn't actually coated in paint. It's coated with a unique thin-film coating called Cerakote.
Cerakote is an extremely high-performing coating that's unlike just about anything on the market.
It's applied super thin (about 1 mil, or .001"), and therefore requires very little material, so it's super lightweight.
It's highly abrasion, corrosion, chemical, UV, and temperature resistant.
It's hydrophobic - mud and water (and decals!) don't want to stick to it.
It can be applied to many substrates such as metal, composites, plastics, and more.
Thanks to its unique durability and thin-film application, Cerakote is often used for customization of close-tolerance and high-performing sporting goods such as firearms, optics including sunglasses, watches, and automotive parts. A few manufacturers and custom builders in the cycling industry have started using it, including Thomson, Rolf Prima, and Groovy, but it's far from commonly used among road and mountain bike companies.
Cerakote requires precise and careful application by a certified applicator. Ours was done by ColoradoKote, a high-end custom firearms shop in Loveland, Colorado. They spent more than 3 days with a team of 3 applicators, intricately prepping, spraying, masking, spraying, and gently heat-curing this unique ceramic coating.
After coating, we built this unique RIP 9 RDO with Shimano XTR, Deity, and DT Swiss parts.
Are you asking "why go to such trouble with such a specialized coating?" Well, for starters we love anything one-off and cool to look at. Also, we simply wanted to see if it could be done! Jack, Rhonda, and the team at ColoradoKote did a great job and were awesome to work with. They're interested in more sporting goods custom coatings so be sure and drop them a line.
We're stoked with how the bike looks and hope you enjoy the pictures!