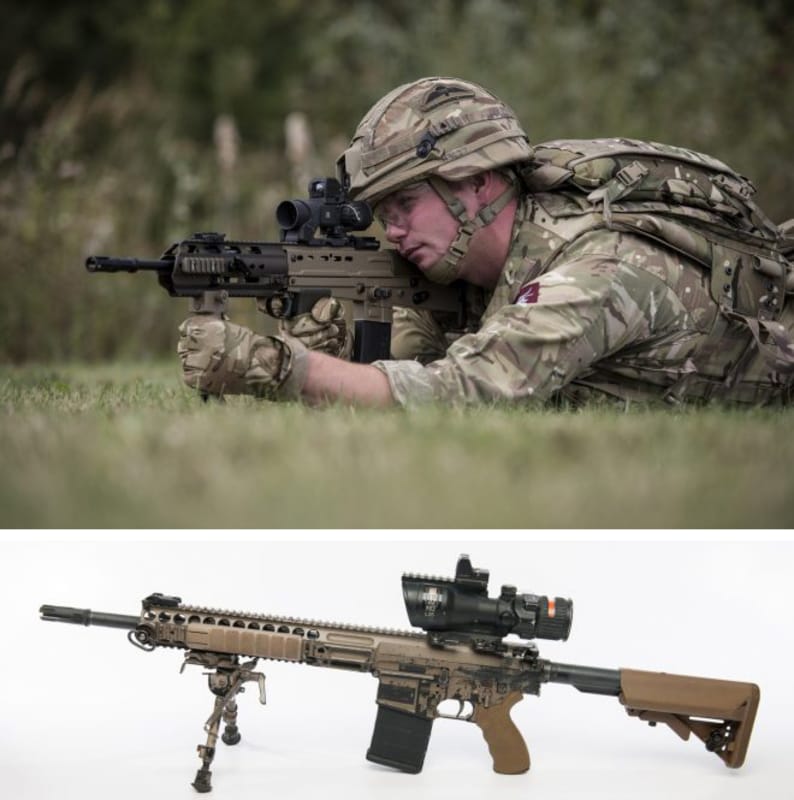 The British Army is set to refinish its infantry weapons with flat dark earth cerakote to better match its multi-terrain pattern uniforms. The move comes as the SA80A3/L85A3, currently being introduced, already sports the new colour scheme.
The British Army's newly upgraded L85A3 has a two-tone flat dark earth finish it is unclear if the move to cerakote weapons refers just to L85A2s or refers also to the entire infantry weapons inventory including the L129A1s, L7 GPMGs and other weapons like L131A1 (Glock 17) pistols. The news came as Equipment Directorate officials spoke with the British Army's Soldier magazine for their August issue.
Two men of Inkerman Company, Grenadier Guards armed with new L85A3s in 2018 (British Army/MoD)
Major John Anthistle of the Equipment Directorate said "The SA80A3 was the first weapon to be painted with this – it is hard wearing and resistant to the elements. He continued "As a result, it will enhance durability and the user's camouflage as the black bodies stand out significantly against the PCS [the British Army's current multi-terrain pattern Personal Clothing System] background."
As mentioned by Major Anthistle, the SA80A2/L85A2 currently in service has a receiver with a black finish and a black Daniel Defense Picatinny railed forend. While rail covers in various colours are available and the railed forends have themselves been painted in flat dark earth in the past, the new L85A3 forend from Heckler & Koch has a dark new flat dark earth anodized finish.
Soldiers from The Household Division firing the L85A2 with a black receiver and forend, during a live fire exercise in the Falklands (British Army/MOD)
The British Army has a long history of painting weapons suitable colours for operational environments but the new initiative is set to see a shift to a new default weapon colour.
The British Army has a long history of painting weapons suitable colours for operational environments, this Flat Dark Earth painted L129A1 7.62mm Sharpshooter Rifle was deployed in Afghanistan (Stuart Hill/MOD)
Major Anthistle confirmed that the lengthy process of painting the British Army's entire infantry small arms inventory has begun, saying: "they will be painted this year but the size of the fleet is so vast users will see a mix of black and brown weapons for a number of years to come."
-TheFirearmBlog.com
https://www.thefirearmblog.com/blog/2018/08/07/british-army-to-cerakote-entire-infantry-weapon-fleet/