Cerakote in 'Special Weapons' February 2012 issue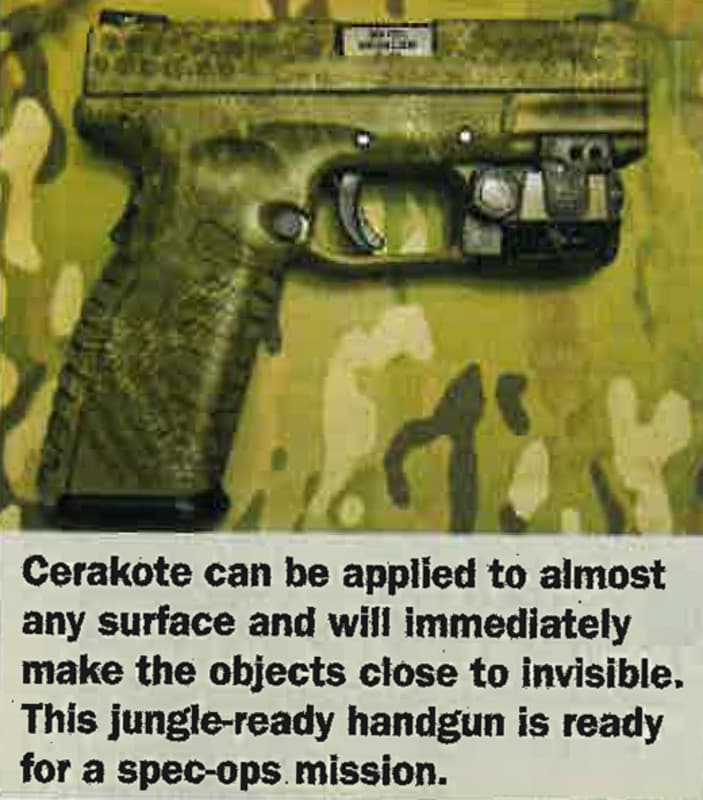 Cerakote in the latest issue of Special Weapons:
Red Creek Tactical Cerakote
by David Bahde
Cerakote is an advanced ceramic coating for firearms and other critical parts or tools. Unlike many other coatings, it can be used on all metals and even plastics and polymers. They even have special coatings for internal parts that provide protection against wear and provide some lubricity. Cerakote is one of the toughest coatings you can put on a firearm. It is currently used on a number of production pistols as well as many custom firearms. Military and law enforcement versions even have protection against IR detections. It is state of the art, and improving with each new evolution. Currently it has withstood beyond 3,000 hours of salt spray and immersion. It wears like iron and actually extends the life of parts where the coating is on both surfaces. Even at only 1 mm thickness it retains incredible hardness and scratch resistance. It is on several of my firearms and after much abuse it looks pretty much like new.
Premier Applicator
Red Creek Tactical is a premier Cerakote applicator. Ernie is authorized to apply all Cerakote products, including those restricted to the military and law enforcement users. He is also the winner of the 2011 Cerakote NIC Industries applicator photo contest. His camouflage patterns are among the best I have ever seen. They are practical, are applied with incredible detail, and above all, work. In well over 20 years in the firearms industry no one has shown more dedication to the craft. If you need a gun coated and you want the best material and craftsman to apply it, then give Red Creek Tactical a call (801-616-0600 or www.redcreektactical.com). You will not be disappointed.