How Do I Get My _____ Coated With Cerakote?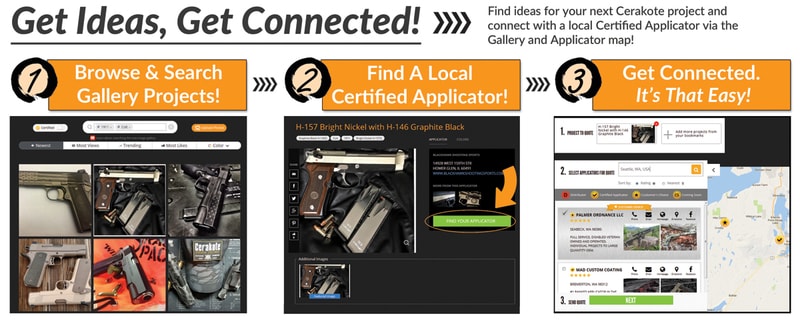 Find an idea; connect with a local Certified Cerakote Applicator. It really is that easy.
First, get inspired in the Gallery at Cerakote.com, where there are over 25,000 Cerakote projects to browse and search, from a variety of firearms, to tools, knives, eyewear, golf and more.
Once you've gotten an idea and found a project you would like done to your item, just click the green 'Find Your Applicator' button on that project page. This holds the project in place while you head to the Certified Cerakote Applicator map.
Lastly, browse the list of Certified Cerakote Applicators near you (search by city, state, or postal code), check the check box(es) of the Applicator(s) you would like to contact, and click the green 'Next' button at the bottom of the map. This will bring up an email template that holds the project you selected, which will be sent to the Certified Applicator(s) you've selected, so they can be notified of what you are looking to get accomplished.
Just fill in your name, email address and a short message about your project to the Certified Applicator(s) and click 'Send'. That's it! You will then be in communication with your local Certified Cerakote Applicator to get your project coated with Cerakote, the industry leader in thin-film ceramic coatings.