Cerakote® Introduces the World's Strongest Clear Coat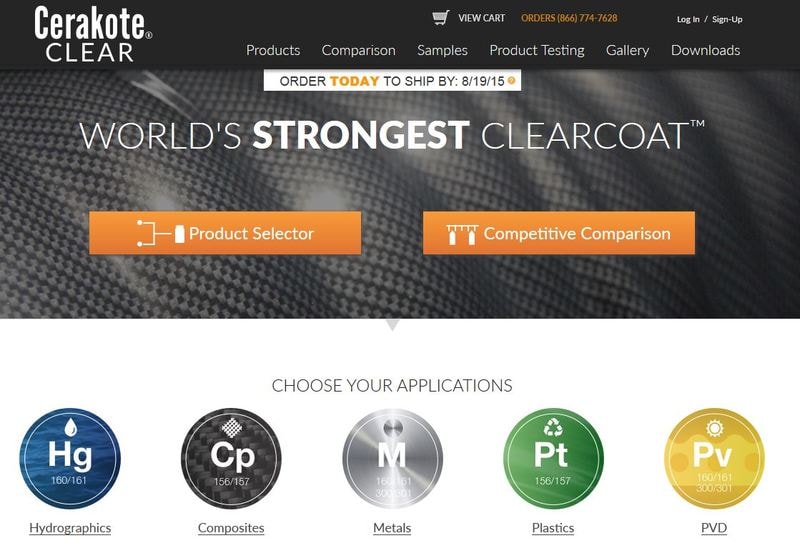 Cerakote, the industry leader in ceramic coatings, recently unveiled the revolutionary next step in the clear coating industry: Cerakote Clear Coatings. All Cerakote Ceramic Clears have industry leading durability, hardness, scratch resistance flexibility and chemical resistance and have been designed specifically to be the thinnest, yet strongest, clear coating on the market and can be applied to nearly any substrate, from Hydrographics and Composites, to Metals, Plastics and PVD.
With the introduction of this exciting new product line, Cerakote is proud to announce the launch of ClearCoating.com. At ClearCoating.com, customers are able to view in-depth ASTM testing and compare the Cerakote line of clear coatings against a variety of popular competitive coatings. Finding the correct clear for specific applications has been streamlined to an intuitive process that directs customers to the optimal Cerakote Clear Coat based on the application suitability and product characteristics input by the customer. Customers may request free product samples for evaluation and testing to see why Cerakote is the World's Strongest Clear Coat.
Customers have the ability to create their online account, making ordering easier than ever. With this feature, customers can instantly see what products are in stock, receive shipping quotes, reorder products and track orders from a single profile.
Cerakote, The World's Strongest Clear Coat, only at ClearCoating.com.