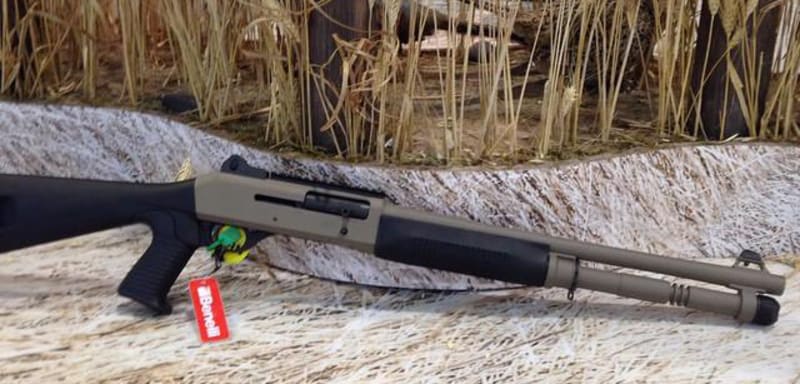 Already battle-tested as the US military's Joint Service Combat Shotgun, the new Benelli M4 takes optimal performance to another level—an M4 Cerakote model that can handle the harshest treatment a modern tactical weapon can expect.
Cerakote is an abrasion and impact-resistant material that can be applied to firearms and parts including metal, plastic, composite and other surfaces, reducing maintenance and adding years of service life and functionality to any weapon. The new Benelli M4 Cerakote can operate in virtually any environment.
The rust-resistant qualities of Cerakote are up to 50 times stronger than competitive coatings, and make the weapon nearly impervious to the corrosive effects of water, salt spray and even abrasive grit and grime. The improved hardness and scratch-resistance of Cerakote means a much longer wear cycle, and the adherence quality of Cerakote is phenomenal and resistant to impact, heat or the extreme treatment inherent in tactical and combat environments.
Functionally, the new M4 Cerakote is the same M4 currently in service with America's Armed Forces and many law enforcement agencies, and employs the same super-reliable Auto Regulating Gas Operated (ARGO) system. With dual, self-cleaning pistons, the ARGO system requires only ½ inch of movement for complete cycling, minimizing vibration and maximizing target re-acquisition. Featuring a synthetic stock, the new M4 Cerakote comes in AI Dark Earth only, with an 18.5" barrel length and a total length of just 40 inches. Set up with ghost-ring sights (optional three-dot Tritium inserts are not included but are available) and a Picatinny rail just forward of the sight assembly, the Benelli M4 Cerakote can take on specialized optics like night vision, red dot sights and standard scopes.
The new model M4 Cerakote weighs in at 7.8 pounds and comes with a standard Modified choke. Like it's predecessor, the M4 Cerakote cycles everything from 2 ¾" Heavy Target to 3" Magnum flawlessly and interchangeably, and the shotgun can be ordered with either tactical or pistol grip stock.
COMMON SPECIFICATIONS: Gauge: 12-Gauge Overall Length: 40″ Weight: 7.8 lbs Finish: Black synthetic, AI Dark Earth Cerakote Magazine Capacity: 5+1 Chokes: M Sights: Ghost-ring Length-of-Pull: 14 3/8″ Drop at Heel: 2 1/4″ Drop at Comb: 1 1/2″ MSRP: $2,399
About Benelli USA
Benelli USA is a world leader in manufacturing quality semiautomatic shotguns and rifles that are known for their ultra-reliability and high-performance standards. For the latest news and product information visit www.benelliusa.com.