Knife Finishing With Cerakote In Afghanistan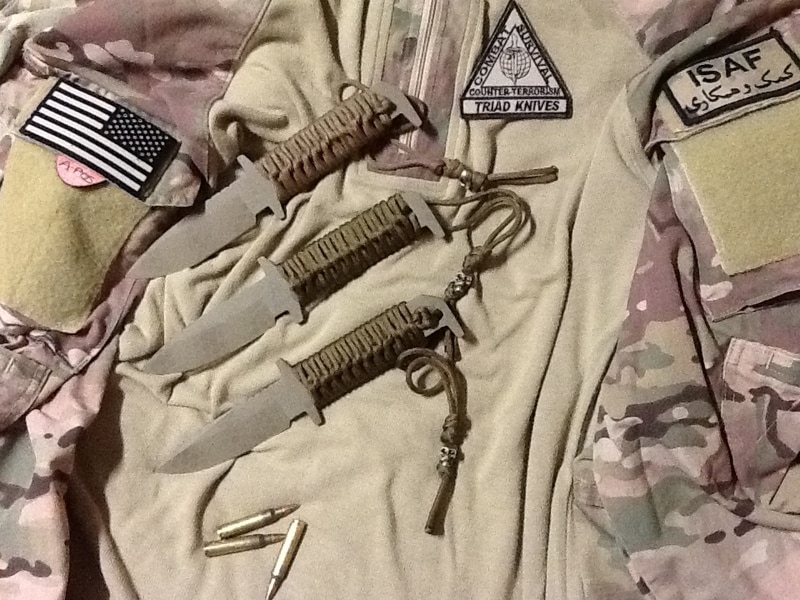 A great testimonial and story about Cerakote in one of the harshest environments:
I wanted to write you and let you know what a great product you have in the Cerakote Firearm Finishes. I am a custom knife maker and still active duty in the US Military. I have just returned from a year in Afghanistan where while deployed I made some knives for some of the military personnel deployed with me. I wanted to finish them in something to all allow them to blend in well with the environment and still have the ability to stand up to wear and tear. I have used most of the other finishes in the past and knew that they generally did well in firearms but not so well on a knife that saw much more abuse. With this in mind along with everything I had been reading about Cerakote I decided to give it a try. I did my finish with a Camo pattern using Coyote Tan H-235 as a base coat in a matte finish patterned over with Flat Dark Earth H-265 slightly stained to give the pattern a mirage type appeal...i.e. you have to turn the blade at different angles to see all the pattern. All the finishing work was done in an Alaskan tent during normal Afghan June "120 Days of Wind" which covers everything with a layer of dirt...inside and out. Regardless of the weather and layer of dust in the air the finish took well and I did not have any flaking issues that I would have with other finishes that were not done in a surgical environment. The finish worked great! Nice environmentally normalized finish that has great strength, impact capability and corrosion resistance. Thanks for making such a great product, you have my business whether here or deployed. Cerakote is by far the best firearms/knife finish I have ever used.
James Dillard
MSgt, USAF Security Forces
Thank you James for your service and testimonial to the protective properties of Cerakote Firearm Coatings!