Venom Tactical Taipan Featuring Cerakote Firearm Coatings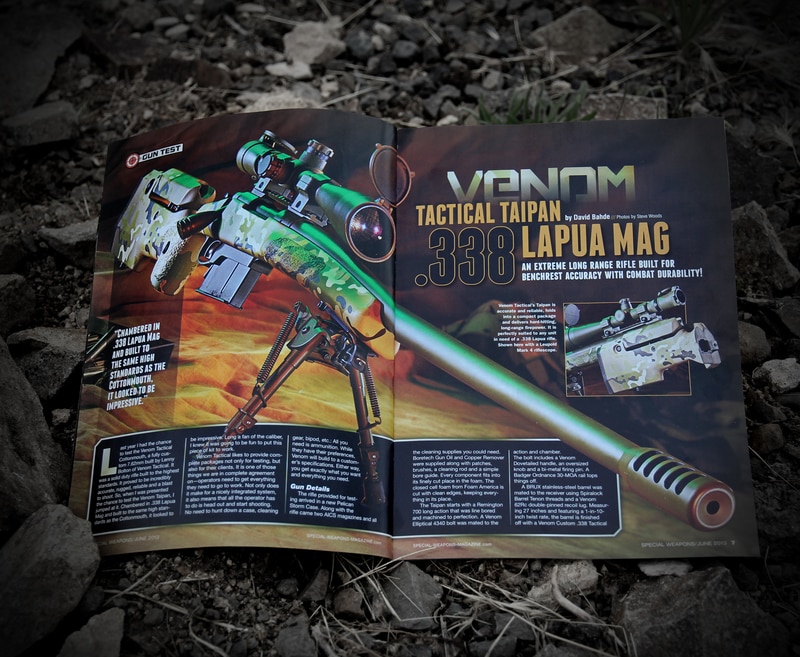 The Venom Taipan chambered in .338 Lapua Mag was the focus of a Gun Test article in the June 2013 issue of 'Special Weapons'. Cerakote was chosen for the firearm coating, including all metal parts including the magazine and bipod. The article, by David Bahde, states, "...the metal parts are coated in olive drab green Cerakote. This finish is proving to be a favorite amongst most custom gun builders. It seems to hold up well and provides excellent protection against corrosion and wear. The scope was coated to match and was done extremely well. Too often scopes that are coated are kind of iffy with either missed spots or things you need to see covered. Measurements on the knobs and power adjustment remained clearly visible. The caps were covered as well.
The final touch is the multi-cam-style paint job completed by Todd Jackson in a matching Cerakote. It was very nicely done and matched my drag bag, shooting bag and other multi-cam-style equipment perfectly. The overall look was very nice - one of the most professional I've seen to date."
For the full article, check out the June 2013 issue of Special Weapons or visit Special-Weapons-Magazine.com.