Oakley SI Fuel Cell Sunglasses with Cerakote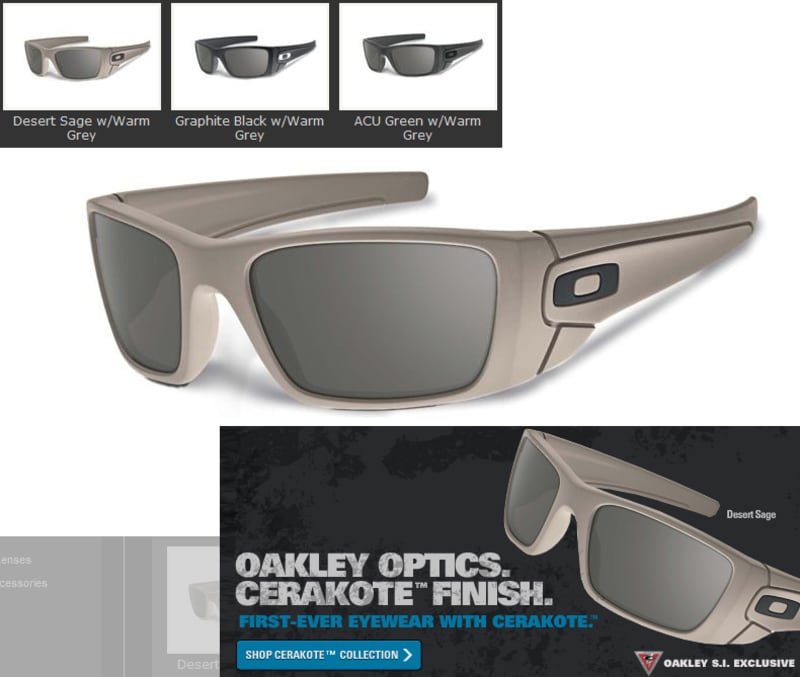 Oakley is proud to partner with Cerakote™ in an effort to provide customers with the most durable and mission critical eyewear protection possible. The two lenses are actually cut from a single shield of optically pure Plutonite® then placed in the frame to maintain the original continuous contour. An innovation of HIGH DEFINITION OPTICS®, POLARIC ELLIPSOID™ lens geometry extends clarity all the way to your peripheral view, exceeding ANSI Z87.1 optical standards. Impact protection meets all ANSI Z87.1 basic standards while UV filtering is an unbeatable 100% for every single ray of UVA, UVB and UVB. The lens curvature and frame architecture improve side protection, and durable yet lightweight O Matter® frame material.
PRODUCT DETAILS:
LENS:
• Dual lens POLARIC ELLIPSOID™ geometry (two lenses cut from single toric shield)
• UV protection of Plutonite® lens material that filters out 100% of UVA / UVB / UVC & harmful blue light up to 400 nm
• Optical precision and performance that meets or exceeds ANSI Z87.1 standards
• Impact protection based upon ANSI Z87.1 test methods for High Mass and High Velocity impact resistance
FRAME:
• Durability and all-day comfort of lightweight, stress-resistant O Matter® frame material
• Carefully painted and cured with Cerakote ™ Generation II Firearm Coatings
• Enhanced durability, wear and corrosion resistance, and reduced Near-Infared (NIR) management.
• Comfort and Performance of Three-Point Fit that holds lenses in precise optical alignment
• Gun Metal Icon Accents
For more information, click here or go to www.oakleysi.com.