Cerakote Protection And Endurance A Benefit For Speed Shooters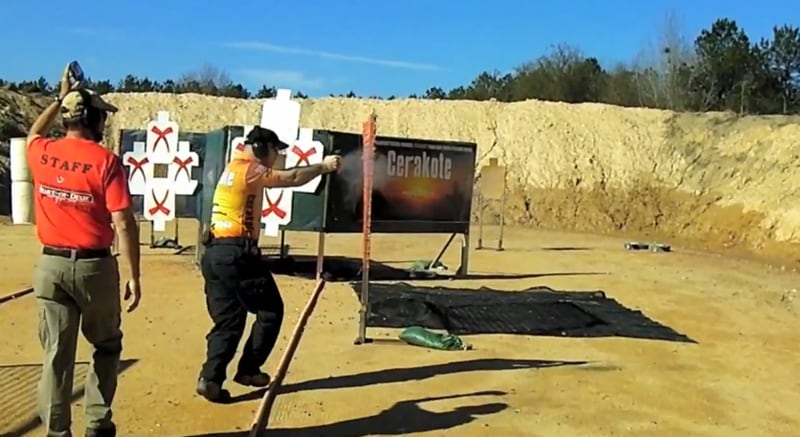 Below is a first-hand account of the benefits of Cerakote Firearm Coatings when it's put up to the rigors of speed shooting competitions by Corey Estill:
In the Spring of 2011 I was approached by the guys at Cerakote to try their finish on my custom 1911. Honestly, I was skeptical at first as to me it just seemed like another spray on paint that will wear like the others I've tried where after a few dozen dry fire draws the finish would just flake off. The guys up in Oregon assured me that this would not happen. The gun was freshly built and still in the white so it couldn't hurt. I boxed it up and sent it off and a week later I had my gun back. It was nothing short of amazing looking! They coated every metal part on the gun, including the barrel! I took some ammo out to the range to break it in like any other new coating on a super tight custom gun. It took me about 50 or so rounds to get the gun running well and after 150 it was running as smooth as silk. The gun actually felt better with the coating on in it than it did before. That's when I found out that not only does Cerakote protect the metal, it will also fill in and microscopic low spots in the substrate and make the total fit that much better. On top of that, the coating actually retains oil. The gun was butter-smooth!
I proceeded to do my best to wear out the coating getting ready for the Area 5 USPSA match that was coming up in a couple of months. This includes draw, after draw, after draw from Kydex holsters and thousands of rounds of my Black Bullet International ammo. The gun looked like the day I got it back from them! I packed up my gear and went and shot the Area 5 match. Ended up taking home the High Overall In the division and proceeded to win several more state matches in 2011. In 2012 I won more state matches as well as finishing in the top 15 at Nationals.
I shoot matches every weekend and typically I'm not really kind to my gear. I don't like to clean my guns as often as I should. Typically, if I'm using the same gun for the match the next weekend it will just stay in my Shooters Connection range bag. How many blued guns have you left in the range bag to come back to them and find surface rust on them? You don't have to worry about that with Cerakote. That kind of protection has earned them several major coating contracts with large manufactures.
The gun in question is a Custom built Tri-topped Single Stack 1911 in .40 caliber built by my good shooting buddy and fellow competitor. Two years later and countless draws and ammo through this awesome gun and it only shows wear on the four points at the front of the slide where the gun was tri-topped. Since having that gun done, I've had 2 CZ Shadows that I shoot in Production Division along with my 3-Gun rifle and shotgun, and currently I'm waiting on my limited division CZ Tactical Sport, and my everyday carry gun to be coated as well.
In the end, this finish is by far the best finish that I have ever seen. It looks fantastic. It wears hard. It protects the gun amazingly. It keeps the lubrications where it needs to be. It just plain works!
- Corey Estill
You can see Corey in action on his YouTube channel, right here!