Cerakote Certified Applicator Getting It Done For GEMTECH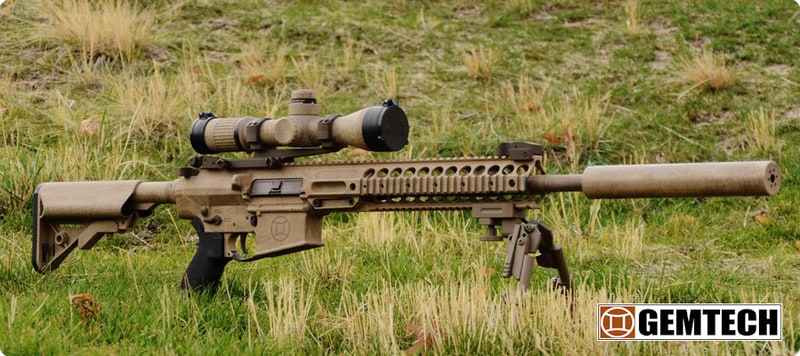 It's always wonderful to see when new partnerships are made through the Cerakote Certified Applicator Program and various manufacturers across the country. The partnership of GEMTECH utilizing the skills of Idaho Gun Works is no exception. Idaho Gun Works became Cerakote Factory Trained and Certified in July of 2012, and now they are the exclusive Cerakote Applicator for GEMTECH, a leading manufacturer of suppressors, firearm parts and accessories.
GEMTECH began in 1993, as a supergroup of already-leading suppressor designers with roots in the silencer business going back to 1976. Mixing this old-school experience with modern CNC and robotic construction methods, honest business ethics, and a customer-first attitude, GEMTECH has grown year after year, proving itself over time while other companies with their "lifetime guarantees" came and went. GEMTECH is consistently designing, testing, manufacturing, servicing, and selling the best quality silencers and accessories at absolutely fair prices.
GEMTECH is in duty use around the world with many Soldiers, Sailors, Airmen, and Marines of the United States military, Intelligence Community, Federal Law Enforcement, state and local peace officers, wildlife and agricultural agencies, friendly foreign military and police, and providing excellent service with tens of thousands of civilian sport shooters. The addition of Cerakote Ceramic Coatings to their array of products and services through Idaho Gun Works is a success for all involved. For more information on GEMTECH, click here and to find out more about Idaho Gun Works, visit them at www.IdahoGunWorks.com.