RIE Coatings Becomes Cerakote Factory Trained and Certified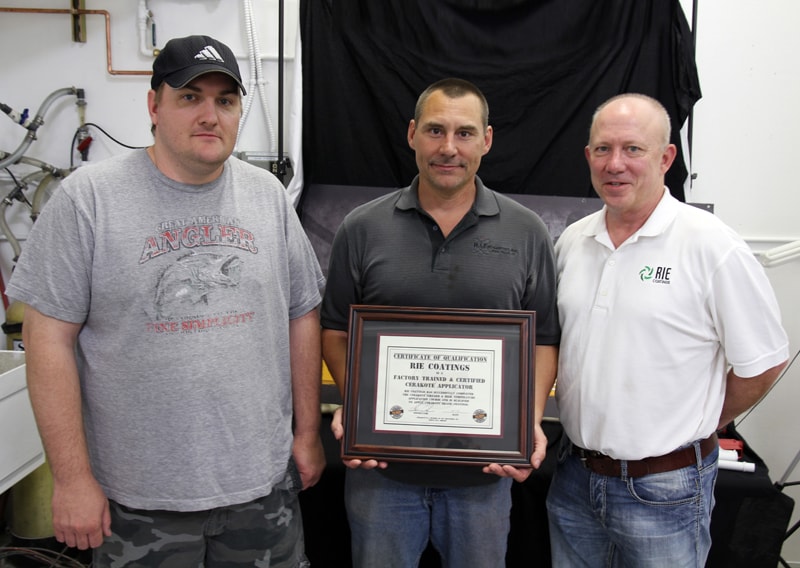 RIE Coatings, based out of Eden Valley, MN, recently completed the two-day, hands-on training program to become Factory Trained and Certified Cerakote Applicators. RIE Coatings is a high-volume applicator that applies coatings for protection and performance to a variety of surfaces and substrates including carbon steel, stainless steel, zinc plating, aluminum, composites, plastics, rubber, copper, brass, and other ferrous and non-ferrous metals. RIE Coatings has helped companies in a wide range of industries like agricultural equipment, recreational vehicles, military, computer, electronics, construction, medical, aerospace, and others improve the performance of their products through the use of coatings.
RIE Coatings coats parts for corrosion protection, chemical protection, lubricity of mating parts, heat dissipation, cosmetic appearance and more. RIE Coatings can solve a wide variety of problems through the use of ultra-thin-film coatings. RIE Coating's coatings and applications processes comply with all of the major environment regulations that exist today, including the Restriction of Hazardous Substances Directive (RoHS), Waste Electrical and Electronic Equipment Regulations (WEEE) and End of Life Vehicle Directive (ELV).
While attending the training program, REI Coatings found many great opportunities to use Cerakote Firearm and Ceramic Coatings to enhance their current coating processes. You can find out more about RIE Coatings by visiting www.riecoatings.com.