Cerakote & Hedy Jane DoubleTap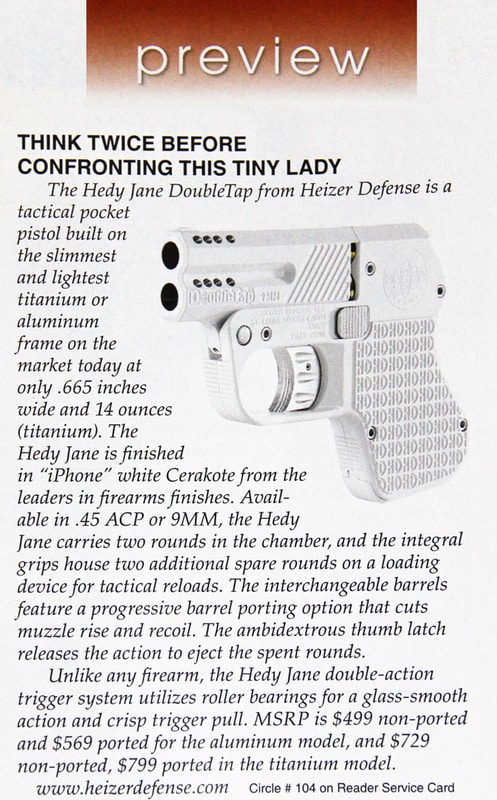 Heizer Defense, the creators of the DoubleTap, have recently begun manufacturing the Hedy Jane with a white Cerakote finish. Featured in the Preview section of the May/June 2012 issue of Shooting Sports Retailer, the Hedy Jane DoubleTap "is a tactical pocket pistol built on the slimmest and lightest titanium or aluminum frame on the market today at only .665 inches wide and 14 ounces (titanium). The Heyde Jane is finished in "iPhone" white Cerakote from the leaders in firearm finies. Available in .45 ACP or 9MM, the Hedy Jane carries two rounds in the chamber, and the integral grips house two additional spare rounds on a loading device for tactical reloads. The interchangable barrels feature a progressive barrel porting option that cuts muzzle rise and recoil. The ambidextrous thumb latch releases the action to eject the spent rounds.
Unlike any firearm, the Hedy Jane double-action trigger system utilizes roller bearings for a glass-smooth action and crisp trigger pull." For more information on the Hedy Jane, visit www.heizerdefense.com.