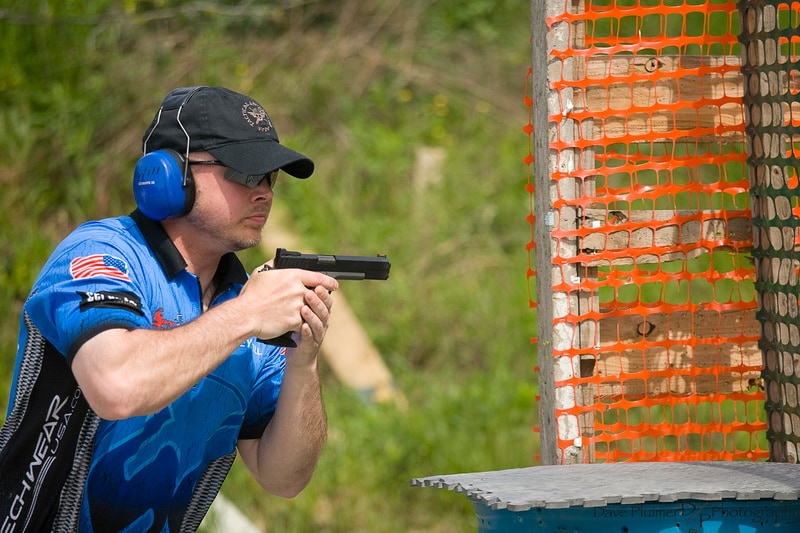 Cerakote Firearm Coatings is proud to sponsor Corey Estill, a multi-certified Grand Master Speed Shooter. Corey's track record is top-of-the-line, with an impressive 2011 Speed Shooting (SS) season including:
· 1st Master in Speed Shooting at the Battle in the Bluegrass
· 2nd Overall in SS at the Alabama State Match
· 2nd Overall by less than a point at the Ohio State Match
· 2nd Overall in SS at the Tennessee State Match by less than four points
· High Overall in SS at the Area 5 Championship encompassing several states
· 28th Overall in SS Nationals out of 352 shooters
Corey began shooting competitively in the autumn of 2006. He made Master in 2009, and got his first Grand Master (GM) card in Limited 10 in 2010. His 2nd GM card was in the Single Stack Division in the fall of 2011, and his 3rd GM card was in the Production Division this April. So far in 2012, Corey has won both Majors he's attended including High Overall in the Production Division at Alabama, and High Overall in the Production Division at the Battle in the Bluegrass.
The choice to use Cerakote Firearm Coatings was easy for Corey; he needed an industry leading gun coating that would endure the stresses of a variety of speed shooting matches. Estill states, "Cerakote as a gun finish has been, by far, the best finish I've used and I've used every new finish out there. The coating levels out any highs and lows in the slide-to-frame fit, making for a super-smooth action. The finish holds oil so that I never have to worry about my guns getting dry as the match wears on. I dry-fire almost daily and the finish on my custom 1911s and CZ Shadows show virtually no wear from the draw practice I do from Kydex holsters. The barrels are coated as well and show very minimal wear on the contact surfaces and nowhere else. On top of that, the guns just look good!"
Corey will soon be competing to get into the top 25 at the Speed Shooting Nationals, and Cerakote gun coatings will have him covered.