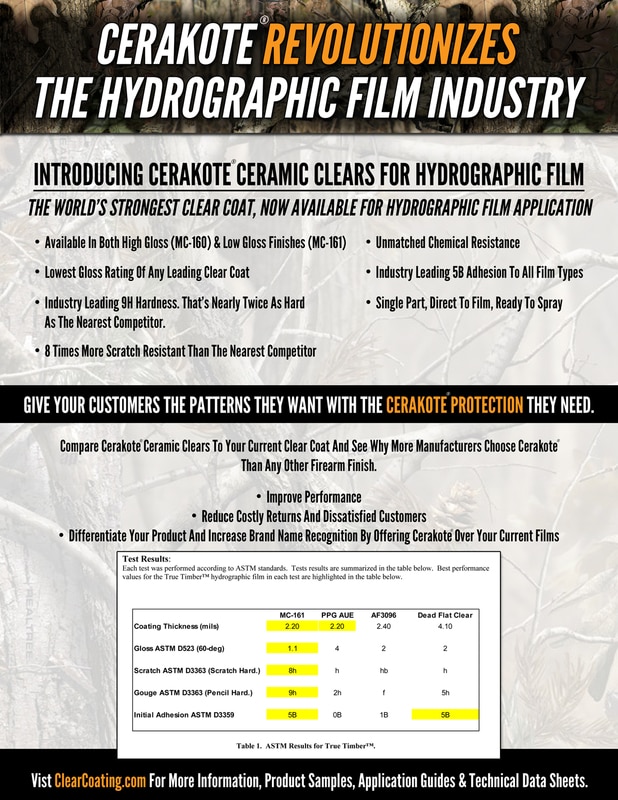 Introducing Cerakote Ceramic Clears For Hydrographic Film.
Cerakote is proud to announce the release of The World's Strongest Clear Coat, Now Available For Hydrographic Film Application. Give customers the patterns they want with the Cerakote protection they need. Benefits include:
* Available in Both High Gloss (MC-160) and Low Gloss Finishes (MC-161)
* Lowest Gloss Rating of Any Leading Clear Coat
* Industry Leading 9H Hardness. That's Nearly Twice As Hard As The Nearest Competitor
* 8 Times More Scratch Resistant Than The Nearest Competitor
* Unmatched Chemical Resistance
* Industry Leading 5B Adhesion To All Film Types
* Single Part, Direct To Film, Ready To Spray
Compare Cerakote Ceramic Clears to your current clear coat and see why more manufacturers choose Cerakote than any other firearm finish. With the improved performance of the Cerakote line of clear coatings, you will reduce costly returns and dissatisfied customers. By using the Cerakote line of Ceramic Clears, you will differentiate your product and increase brand name recognition by offering Cerakote over your current hydrographic films.
Visit ClearCoating.com (Coming Soon) for more information, product samples, application guides and technical data sheets. Visit us at Booth #3221 at the 2015 SHOT Show in Las Vegas to discuss the incredible potential of the new line of Cerakote Clear Coatings!