Swag prototype putters with Cerakote at the 2023 Wells Fargo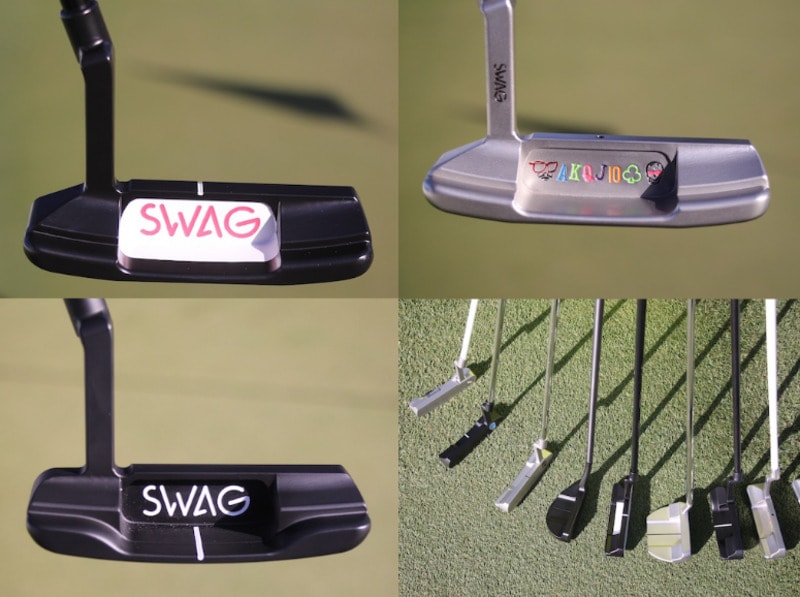 Swag might not be the oldest putter manufacturer out there, but they are one of the most creative. They specialize in making some fantastic, milled putters and their limited-run putters and accessories are hard to get your hands on. Recently they have been seen more on professional tours, proving that their putters are high-performance flatsticks.
Recent PGA Tour winner Nick Hardy has been a Swag ambassador since the beginning of the year and we got some in-hand photos of a prototype that Swag built for him. The proto is somewhat of a mix between Swag's retail putters, the Handsome One and Handsome Two, as explained to me by Swag's Tour Operations Manager, Nate Brown. This prototype has a little wider body from face to back and the hosel length and position have been dialed in to get the exact toe hang Hardy desires. The topline is a little thicker and the flange has a single site line for alignment. If you look very closely you can see a little step on the flange, unique to Hardy's putter as Swag takes pride in milling perfectly smooth flanges for a clean look.
There was also a Swag Handsome 2 prototype that had a unique finish out on the putting green. Nate Brown let me in on some details on why they created this black putter with a white face, cavity, and portion of the flange. The contrasting colors help some players with alignment and setup, making it easier to ensure that they have the putter square to the target. Both the black and white sections of the finish are done with Cerakote, a very thin and durable ceramic coating. Nathan explained how Cerakote is great but it has to be done right, in thin coats, in order for it to not deaden the feel of the putter. The photos don't show the detail, but the face actually features Swag's double fly milling and you could see the milling perfectly if you held the putter in hand.